Description
Pacific Energy | NEOSTONE 1.6 Wood Stove
As the name may suggest, the NEOSTONE 1.6 Wood Stove is elegantly wrapped in natural soapstone.  Soapstone is not only beautiful, but also retains heat while the stove is in use, releasing it heat back into the room long after the stove is out. See the larger NEOSTONE 2.5 Wood Stove operating in our Ottawa Wood Stove Showroom.
Inside, our clean-burning Wood Stove technology reduces emissions while providing long burn times and fuel efficiency. Raised taller for convenient operation, the Neostone wood-stove is easy to light, easy to load, and easy to use.
EBT2 – Extended Burn Technology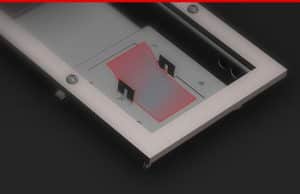 Pacific Energy's second-generation Extended Burn Technology, or EBT2, precisely regulates secondary airflow based on vacuum created by the chimney for a longer, cleaner, more economical burn. This automatically adjusts the secondary combustion system, for a cleaner, more efficient burn and extended burn time.