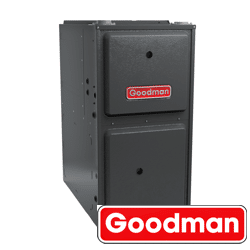 Goodman has built a reputation for quality home heating products focusing on value that fits your budget.
Top Hat Home Comfort's recommended Goodman Gas Furnace, the GMSS92, offers an unbeatable price while maintaining a respectable 92% efficiency rating. The Goodman GMSS92 gas furnace operates on natural gas or propane, and features a heavy-duty aluminized-steel tubular heat exchanger, a stainless-steel secondary heat exchanger, and a self-diagnostic control board with constant memory fault code history output to an LED to make servicing quick and efficient.
There has never been a better time to upgrade your home's heating system with one of today's high efficient models, and with Top Hat's top notch licensed heating technicians to install and maintain it, and our 24-hour emergency service team behind you, you can be sure you will never be left out in the cold.
Goodman GMSS92 Gas Furnace Product Literature
To learn more about this or other heating products offered by Top Hat Home Comfort, contact us today for a free consultation and quote by calling 613-722-1226 in Ottawa or 613-257-1226 in Carleton Place, emailing us at info@tophathomecomfort.com, or filling out our online consultation request form in the sidebar.