Description
Daikin EMURA – Single Zone Ductless Mini-Split Heat Pump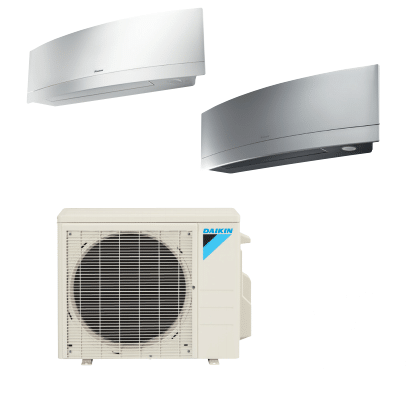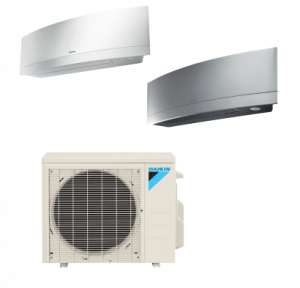 With efficiencies of up to 24.5 SEER and 11.5 HSPF, mini-split systems deliver energy-efficient comfort and can save as much as 60% on your heating bill, as compared to electric heat.
The next generation of home air conditioning is here, A highly intelligent system offering smart technology within a sleek, curved silhouette. Daikin EMURA heat pumps and air conditioners are designed to satisfy a uniquely "Designer" sense of style. Offering a sophisticated solution for contemporary interiors, the new Daikin EMURA Single-Zone Ductless Mini-Split System blends form and function to create a model of contemporary climate control. Available in silver or pure matte white, the Daikin EMURA makes a modern design statement on any wall. Inside the understated exterior is an extremely intelligent system, which can be controlled remotely with the Daikin Comfort App even away from the home. The EMURA Indoor head can also be used in a Multi-Head Mini-Split System
Smooth inverter technology ensures quiet operation and keeps cooled or heated air flowing without the typical starts and stops of conventional systems, virtually eliminating temperature swings. Select mini-split heat pumps also offer outstanding cold-climate capabilities, operating in temperatures as low as -30°C.
Smart inverter technology
Integrated with a variable-speed inverter compressor, Daikin systems deliver the capacity required to maintain desired room conditions, typically reducing energy consumption by up to 30% or more (compared to traditional fixed-speed ducted systems). This technology minimizes temperature fluctuations and provides continuous cooling and heating comfort. More on Smart Inverter Technology – PDF
Mini-split systems are easy to install, using a compact indoor and outdoor unit connected through a small hole in your wall. One outdoor unit can support up to eight indoor comfort zones, providing you with a customized whole-home heating or cooling solution. More on Indoor Ductless Solutions – PDF