Description
Pacific Energy Vista Wood Stove
An excellent choice for heating spaces from 500 to 1500 square feet, the Pacific Energy Vista is a high performance wood stove, engineered for powerful wood heat output, high efficiency, and easy to use.
Self-Sealing Ash Dump (select models only)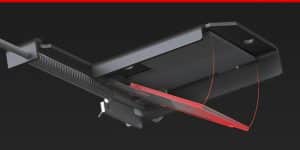 The Pacific Energy self-sealing ash dump, with its spring-loaded trap door, provides a time saving, hassle-free ash removal solution that, has yet to be equaled. Serious wood burners ash removal systems. Many stoves simply have a removable cover over their ash removal opening inside the firebox. Pacific Energy's machined steel, spring loaded ash removal system is opened from outside the stove and closes automatically for safety and convenience when you're done.